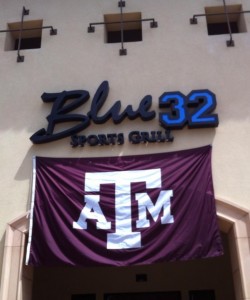 Date: Saturday September 5, 2015
Location: Blue32 – 7293 N. Scottsdale Road, Scottsdale, AZ 85253
Time: 4pm – ?
If you are not in Houston at 4:00 PM, then you need to join the Valley of the Sun A&M Club as we gather at our favorite watering hole, BLUE 32, to yell the Aggies on to victory.
We will initially gather in the room that is just to the right of the main door and hopefully we will have so many there that we will spill out into the outdoor patio or take over other parts of the restaurant.
We have confirmed that BLUE 32 will have a taste of College Station on hand by offering Scheiner Beer at $2.00 per bottle.  As usual we will have Valley of the Sun merchandise for sale and also offer a raffle with all the proceeds going to support our scholarship fund.
Gig 'Em and BTHO of ASU !